> Soseki's Life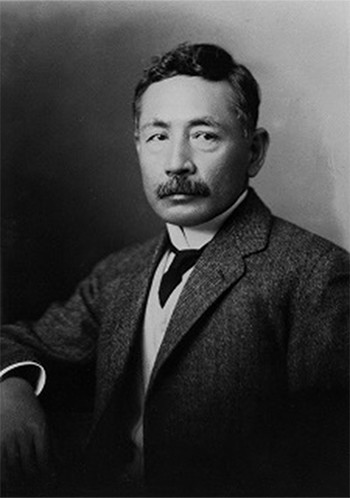 Natsume Soseki (real name: Kinnosuke) was born in 1867 in the Ushigome Babashita-Yokomachi neighborhood in the city of Edo (now Kikuicho in Shinjuku City, Tokyo) as the fifth son of the local headman, Natsume Kohei. At the age of one, Soseki was adopted by the Shiobara family, who headed the Taisoji Temple neighborhood in Yotsuya. However, his adoptive parents divorced when he was nine years old, and he was returned to his biological family.
While Soseki was a student at the First Higher Middle School, he met poet Masaoka Shiki, who introduced him to haiku. Soseki would go on to remain close friends with Shiki until his death. Soseki graduated from the English literature department of the College of Letters at Imperial University (now the University of Tokyo) in 1893 and advanced to graduate school, working as a schoolteacher in Matsuyama and Kumamoto after graduating. In 1900, he was sent to Great Britain to study English for two years on the orders of the Japanese Ministry of Education. After returning to Japan, he served as a university lecturer. However, he continued to suffer from nervous depression that had begun during his time in Great Britain. As a distraction, the poet Takahama Kyoshi recommended that he take up writing. Soseki thus penned Wagahai wa neko de aru (I Am a Cat), which achieved great popularity, launching his career as a writer. It was around this time that many disciples started to flock to Soseki, and he began to host a literature salon called Mokuyokai ("Thursday Club") every week on Thursday.
In 1907, Soseki left his university post and joined the Tokyo Asahi Shimbun Company as a full-time writer. His works including Sanshiro, Sorekara (And Then), and Mon (The Gate) were serialized in the newspaper. While writing Mon (The Gate) in 1910, he developed stomach ulcers and relocated to Shuzenji in Izu in the hope that a change of climate would improve his health. While there, he vomited large amounts of blood and fell into critical condition but was spared from death. He later continued to publish works such as Higan sugi made (To the Spring Equinox and Beyond), Kokoro, and Michikusa (Grass on the Wayside). However, in 1916, the stomach ulcers from which he had been suffering for many years worsened, and he died at his home in Waseda-Minamicho at the age of 49, leaving Meian (Light and Dark), his final work, unfinished.