>
Natsume Soseki Memorial Museum
Information about the Natsume Soseki Memorial Museum
The great Japanese writer Natsume Soseki has captivated the minds of readers from all generations, and is read widely by readers around the world. Natsume Soseki was born and raised in Shinjuku, where he eventually died. He was born in the town of Ushigome-Babashita-Yokomachi (now Kikuicho 1-chome), and the name Natsume-zaka Hill that was given by his father still lives on today.
The house in Waseda-Minamicho where Soseki spent the last nine years of his life was known as "Soseki-Sanbo," and is still remembered by people today. On this site, the City of Shinjuku constructed the Natsume Soseki Memorial Museum – the first full museum dedicated to Soseki, in order to preserve the memory of this place for future generations.
This museum collects and stores materials, and provides a look into Soseki's life and literary world, as well as his followers who gathered at the Mokuyokai. In the library and book cafe, visitors can encounter works by Soseki and related materials.
We hope that lovers of Soseki and of literature will enjoy the opportunity to visit and learn from this museum.
*Request to all visitors
Book Cafe: Cafe Soseki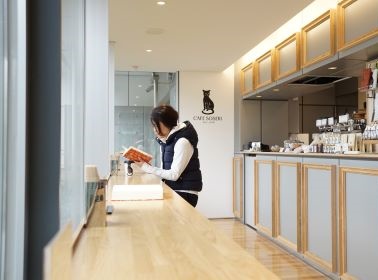 Enjoy the works of Natsume Soseki and related books together with an original Soseki-themed menu. Gifts are also sold here.
Library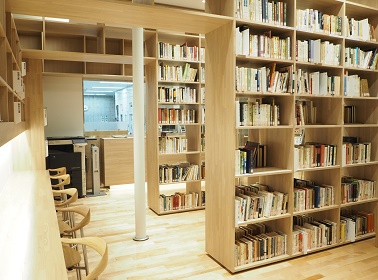 The collection contains approximately 3,500 books consisting of works by Natsume Soseki and related books. Materials can be searched for using the information search system.
* Materials are available for viewing only and are not available for loan.
Soseki-Sanbo
During the last nine years of his life, Natsume Soseki lived in a house in Waseda-Minamicho that was called "Soseki-Sanbo". It was a single-story house that combined Japanese and western styles, with large Japanese banana trees in the garden and a modern veranda-type hallway.
From the time when he moved to Waseda-Minamicho, Natsume Soseki began to concentrate exclusively on his writing. The numerous works produced during this period include Sanshiro, Kokoro, and Michikusa (Grass on the Wayside). Every week on Thursday in his living room, he held a literature salon called Mokuyokai, which became a gathering place for young writers who idolized Soseki.
The building burned down in an air raid on May 25, 1945.
Life at Soseki-Sanbo
Soseki and his wife Kyoko were blessed with two sons and five daughters and lived at Soseki-Sanbo. On Thursday of each week, the followers of Soseki would gather in his living room for the Mokuyokai, and visitors were frequent on other days as well. Soseki-Sanbo became a gathering place for Soseki's many admirers.
Works written at Soseki-Sanbo
All works beginning from Kofu (The Miner) were written at Soseki-Sanbo, including Yume Ju-ya (Ten Nights of Dreams), Sanshiro, Sorekara (And Then), Mon (The Gate), Higan Sugi Made (To the Spring Equinox and Beyond), Kojin (The Wayfarer), Kokoro, Michikusa(Grass on the Wayside), Meian (Light and Darkness), and the essay collection Garasu Do no Uchi (Inside My Glass Doors).
Information for visitors
Opening hours: 10:00 – 18:00 (last entry at 17:30)
Closed: Mondays (if Monday falls on holiday, we will close the following day),
Year-end and New Year period(12/29-1/3)
Admission: General 300 yen, Elementary and junior high school students 100 yen
* The price of admission for special exhibitions and other events varies.
* Admission for groups (20 or more persons) is half-price.
* Admission is free for persons who present their disability certificate at the reception desk.
Access
10 minutes on foot from Waseda Station exit 1 on the Tozai Line
15 minutes on foot from Ushigome-yanagicho Station on the Oedo Line
2 minutes on foot from the Toei Bus Ushigome-Hoken Center stop (白61 route)
* Parking is not available. Please use public transportation.